Post by Renzo Ostrenis on Jan 9, 2020 14:18:55 GMT -8
Imperial II GA-class Star Destroyer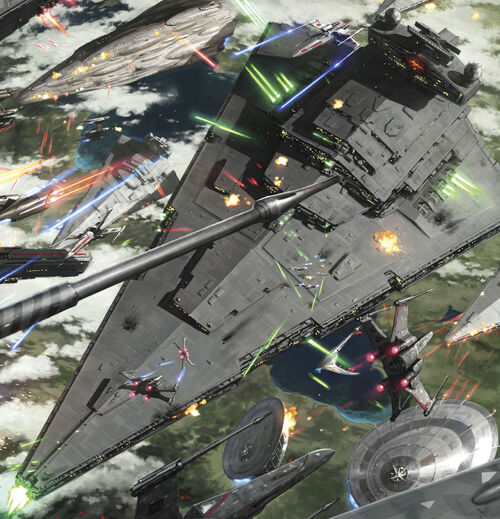 Ship Class:
Star Destroyer
Ship Role
: Destroyer, Carrier, Command Ship
Ship Length:
1,600 meters
Agility (A):
2
Defensive (D):
3
Offensive (O):
5
Speed (S):
2
Special Gear:
3 (Gravity Well Generator, Cloaking device)
Description:

after the devastation brought by the Yuuzhang Vong upon the Galaxy and well into the war -when loses started to be substantial-, the Galactic Alliance commenced a process of much-needed restructuration that continued well after the conflict was finished. Among other things, a new military facility was constructed over Coruscan't orbit, the
Crix Madine Madine Military Reserve
, named after the deceased Rebel hero. From that facility were issued a number of retrofit and upgraded ISD-IIs that were named after figures from the Alliance:
Mon Mothma
,
Anakin Solo
-much to the chagrin of Jaina and Han Solo- and
Elegos A'kla
.
The newly-launched destroyers received several upgrades and were the first among the Imperial-class to have gravity well generators. More so, they weren't exposed and vulnerable, like those in both the Dominator and Interceptor classes, but well within the ship's hull, making them versatile interceptor ships with the full power of an ISD. Also, the ship had state-of-the-art weaponry, including four masive turbolasers at the ship's nose, which were capable of delivering enormous damage at long range. However, the improved weaponry and the gravity wells consumed large amounts of energy and thus the engine and shield power were below those of the standard-issued Star Destroyers. Many of the ship's non-essential systems had to be shut down prior to firing the large frontal turbolasers or else the power output would fry them completely. Among the included weaponry there are baradium and concussion missile launchers, proton torpedoes and advanced anti-starfighter cannons. Another special addition that the Anakin Solo was a "cloaking cone" integrated midway into the ship's hull which, combined with sensor jamming, made the ship virtually undetectable and invisible. 8 octuple barbette turbolaser cannons, 60 heavy turbolaser batteries, 65 heavy turbolaser cannons, 22 heavy ion cannons, 2 heavy tractor beam projectors, 10 tractor beam projectors, 66 ion cannons, 20 multi-purpose missile-launchers (concussion, baradium, proton torpedos) and 52 point defense laser cannons and, of course, 4 long-range heavy turbolaser at the ship's nose make up its array of weapons
The ship hangar can hold up to 72 fighters, a full wing. However, the space has been adapted for the variety of starfighters fielded by the Galactic Alliance and can also hold smaller freighters like YV-666 or YT-1300 models, removing the usual TIE racks on ISDs. The Anakin Solo became the most important vessel of its kind as it was the flagship of Jacen Solo, later known as Darth Caedus, serving as his mobile headquarters and fighting in several battles like that of Kashyyk and the one which ended in the destruction of Centerpoint Station.