Post by Whill Shaman Dažbog on Apr 30, 2020 19:55:25 GMT -8
Note: the planet's details mirror the Legends information of the original planet, which was destroyed in canon.
New Carida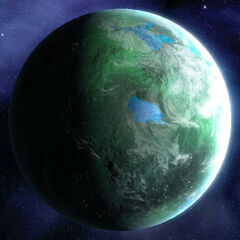 New Carida originally known as Ord Carida, was a planet of the Colonies region of the galaxy, near the Perlemian Trade Route, and the homeworld of the Caridan race.

This large, high-gravity world was covered in everything from rocky mountains and frozen ice fields, to rain forests full of carnivorous plants, and deserts. As such, this planet was the perfect training ground for combat in difficult terrain. It was an exporter of food, and was ruled by the Council of Merchants, which later shared power with a military administration.

*The following is JvS history*
At sometime after the Yuuzhan Vong War, the planet of New Carida was colonized within the same system as the old planet. Much of the former planet's prestige was re-founded by this colonization and some say that the new world was a sister of the old.
Current Ruling Faction:
First Order
Astrographical Information:Region:
Colonies
Sector:
N/A
System:
Carida System
Suns:
1 (Caridan)
Moons:
2
Grid Coordinates:
M-9
Orbital Period:
357 standard days
Rotation Period:
25 hours
Physical Information:Class:
Terrestrial
Diameter:
18,324 kilometers
Climate:
Temperate
Primary Terrain:
Forests, deserts, glacier, jungles, arctic tundra
Points of Interest:
Carida Locations
Fauna:
Combat Arachnid
Societal Information:Native Species:
Caridan
Immigrated Species:
Human
Population:
25 million (75% Caridan, 23% Human, 2% droids)
Major Cities:
Caridan District
Major Imports:
Foodstuffs
Major Exports:
Military personnel, Military technology, and Industrial equipment
First Order Information:IC Sympathies tend towards:
First Order Members/Allies
Imperials
Mandalorians
Sith
Dark Jedi
Smugglers/Criminal Elements
Type of RP and/or SL's likely to be found:
- Open RP: Follows all rules of the Universe, visitors welcome
- Closed RP: Follows most rules of the Universe, but some particular rules apply. Visitors should ask about how the RP works, but are still welcome.
- Private RP: Follows most rules of the Universe, some particular rules may apply. Visitors are asked to PM the players/writers before jumping in, out of courtesy.
- Planned SL: RP scenario is set up in advance, but ending is unknown. Visitors should read the story so far and/or PM to avoid faux pas in the scenario.
- Scripted SL: The ending of the RP scenario is already planned. Visitors are asked to PM the players/writers before jumping in, out of courtesy.
Specific Scenarios:
Varies
- Large battles, fleet or army
- Duels/dogfights
- IC training for the character
- OOC training in RP technique
- Non-combatant personal storylines (Romance or adventure, general character building)
- Non-combatant large storylines (planetary affairs such as business)
Suggestions and/or rule variations for this planet:
- Suggested to PM
Nicademus Delvardus IV
, the Emperor of the First Order, if you desire to roleplay on this planet or have interest in the First Order.
- Otherwise, it is suggested to PM
Thomas Zahn
, the Grand Moff of the Kuat Oversector, as his character administrates the planet. An alternative is the local Moff,
Standash Thul
, who runs the Caridan Academy on behalf of the resurgent Empire.
What to expect as a new RP arrival wanting to write here:
- New players are welcomed to join in any roleplays. However it is suggested to PM any players you wish to roleplay with beforehand.
- New players may PM any players involved on the planet to ask for a way to hop in.
- Jedi/Lightsiders
WILL
be treated with hostility IC.
Any major factions/chars/places of interest that have been RPed here:
- The planet of New Carida was colonized, within the same system as the old world, sometime after the Yuuzhan Vong War
- The system fell under Imperial control during the Core campaigns and has served as the model world for Stormtrooper and Officer training
- The present Moff of New Carida,
Standash Thul
, runs the Caridan Academy, on behalf of the Empire, and leads a Humanitarian department of the Imperial Civil Services. Its headquarters is located on New Carida with a branch on Coruscant and Muunilinst
First Order Orbital Defenses
2x
Golan IIIs
(used for heavy defensive firepower)
First Order Ground Defenses
1x City-wide shielding over Caridan District
3x
V-200 Ion Cannons
(planet-to-orbit planetary defenses)
-- 3x Located in Caridan District
First Order Garrison ForcesHeavy (15+ m):
400 vehicles
- 100 All Terrain MegaCaliber Six (AT-M6)
- 100 All Terrain Armored Transport (First Order AT-AT)
- 200 Imperial Repulsortank 1-H
Medium (10 - 15 m):
850 vehicles
- 200 2-M Saber-class Repulsor tanks
- 200 All Terrain Attack Pods (AT-PT)
- 200 S-1 FireHawke Heavy Repulsortanks
- 250 All Terrain Tactical Enforcers (AT-TE)
Light (0 - 10 m):
1,200 vehicles
- 200 AT-STs (First Order models)
- 200 Imperial Troop Transports (ITT)
- 400 TX-225 GAVw "Occupier" Combat Assault Tanks
- 400 First Order Mobile Assault Walkers
50 NPC Generals
- 5 Imperial Knights
- 45 Imperial Knight-Errants (Padawans)
Commando Troops:
- 1,000 Death Troopers
Elite Troops:
- 200 Phase III Dark Troopers
- 800 Elite Dark Troopers
- 2,000 First Order Flametroopers
- 2,000 First Order Jet Troopers
- 2,000 Riot Control Stormtroopers
- 3,000 Megablaster Heavy Assault Trooper
Standard Troops:
-50,000 First Order Stormtroopers