Post by Kel'Al Raganella on Jan 5, 2016 22:22:21 GMT -8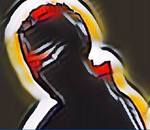 Not Completely understanding what happened during my time on Tython, I watched the blue of the corridor fade down to individual stars dropping into the Asteroid field that once was the Planet Carida. I chuckled as a chill ran up my spine that i could sense millions of presences… millions of myself all around in the field… it was a true nexus.

Switching on the Systems cloak I prepped a message to Master

Kel'Al Raganella

with Starnet encoding

:Hello old friend
I have Arrived. you will find a map of the location sent to you via open comms, you will also notice that the open coms has several possible signatures of the Skith. The cypher is 8176-Aurek plug that in and you will be able to see my ship. I would instruct you to hail using Starnet and not Open coms.
…Forgive my nature.. but if you hail via open Comms, or if someone else crashes the meeting before you, I will be forced to Bolt and we will have to reschedule our symposium.
Best
-D.Tuhlute
Jedi-58.13::
Heading up with Jedimaru, I began listening in to every observable band of data… I wanted to learn all that i could while waiting. When Kel Arrived, I would come in range and extend a docking ramp between our ships (assuming he brought something that had such a ramp) and i would explain all that i knew about the Situation with the Case against Adieumus Matango.
Not long after Tuhlute's arrival, Kel'Al's Corellian Tracer popped out of hyperspace over Carida, and as his slowed his fighter for the final approach to the planet, he noticed that he had a new Starnet message.
It was his friend, and the meeting was set. Kel was relieved, it seemed that at least the first step of this extremely delicate and dangerous operation had succeeded. Not to mention, Tuhlute was operating with an appropriate amount of caution.
Retrieving the map of locations from the open channel, he applied the cipher, and sure enough, the possibilities suddenly shrank to exactly one.
Locating the indicated coordinates among all the other traffic entering and exiting the busy system, Kel'Al stared at the spot, but could see nothing with the naked eye or on his scanners. Evidently his friend was cloaked. Stretching out with the Force, the Corellian took a deep breath, and focused on that single point.
Yes, there was definitely someone there, and the most likely explanation for his feelings was a Jedi in a cloaked ship, although he couldn't be sure.
Sending his response via Jedi Starnet, Kel hailed his friend.
I am here, and heading in your direction.

I hope your capabilities include a docking collar for a starfighter.
Fitting his actions to his words, he began to dip and dive through the other traffic, making his way toward Monte's coordinates, but being careful not to be too direct about it.