Post by Nicademus Delvardus IV on Dec 3, 2018 16:53:57 GMT -8
Balmorra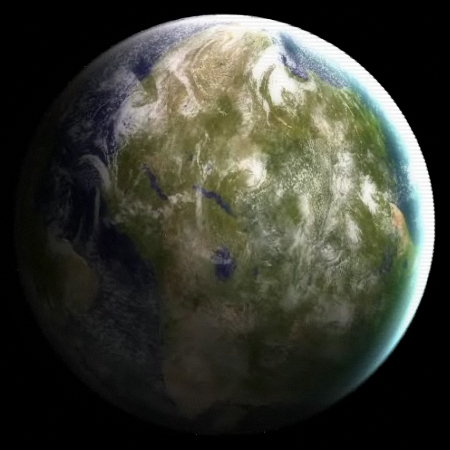 Balmorra was a factory world that was located within the Balmorra system, situated in a strategic position between the Colonies and the border of the Core Worlds. Due to its intense industrial manufacturing it was known as one of the most important foundry worlds in the Republic's space, where some of the most advanced weaponry and battle droids were constantly produced throughout most of the planet's history.

Since Balmorra was very rich in iron and other minerals it gradually became one of the most recognizable factory worlds in the Galactic space. Large parts of Balmorra's surface was covered in industrial wastelands, which still contained most of the earliest assembly lines and refineries on the planet. Although manufacturing weaponry was the primary profit for the Balmorrian economy, the planet's atmosphere suffered greatly from the high pollution, which was emitted from the countless industrial plants.

Also a significant part of wide plains and urban areas were located on Balmorra's surface, like the planet's capital Bin Prime. Though it was known that Balmorran metal parasites feasted on metals in these urban areas, which made a longterm problem for the Balmorran government to solve this issue. Apart from the rest the Balmorra flu was also presumably from the world.
Current Ruling Faction:
First Order
Astrographical Information:Region:
Colonies
Sector:
N/A
System:
Balmorra System
Suns:
1
Moons:
4
Grid Coordinates:
M-10
Orbital Period:
554 standard days
Rotation Period:
47 standard hours
Physical Information:Class:
Terrestrial
Diameter:
N/A
Climate:
Temperate
Primary Terrain:
Industrial, plains, mountains, canyons, urban
Points of Interest:
Gorinth Canyon
,
Hazard Vault 305
,
Markaran Plains
,
Sundari Flatlands
,
Balmorran Arms Factory
and Imperial Construction Yards
Societal Information:Immigrated Species:
Humans, Hutts, Colicoids, and Twi'leks
Population:
60 billion
Major Cities:
Bin Prime
Major Imports:
Foodstuffs and technology
Major Exports:
Weapons
First Order Information:IC Sympathies tend towards:
First Order Members/Allies
Imperials
Mandalorians
Sith
Dark Jedi
Smugglers/Criminal Elements
Customers
Type of RP and/or SL's likely to be found:
- Open RP: Follows all rules of the Universe, visitors welcome
- Closed RP: Follows most rules of the Universe, but some particular rules apply. Visitors should ask about how the RP works, but are still welcome.
- Private RP: Follows most rules of the Universe, some particular rules may apply. Visitors are asked to PM the players/writers before jumping in, out of courtesy.
- Planned SL: RP scenario is set up in advance, but ending is unknown. Visitors should read the story so far and/or PM to avoid faux pas in the scenario.
- Scripted SL: The ending of the RP scenario is already planned. Visitors are asked to PM the players/writers before jumping in, out of courtesy.
Specific Scenarios:
Varies
- Large battles, fleet or army
- Duels/dogfights
- IC training for the character
- OOC training in RP technique
- Non-combatant personal storylines (Romance or adventure, general character building)
- Non-combatant large storylines (planetary affairs such as business)
Suggestions and/or rule variations for this planet:
- Suggested to PM
Ishild Sauer
and
Nicademus Delvardus IV
if you desire to roleplay on this planet.
What to expect as a new RP arrival wanting to write here:
- New players are welcomed to join in any roleplays. However it is suggested to PM any players you wish to roleplay with beforehand.
- New players may PM any players involved on the planet to ask for a way to hop in.
- Jedi/Lightsiders
WILL
be treated with hostility IC
Any major factions/chars/places of interest that have been RPed here:
- Balmorra, home of the famous
Balmorran Arms
, has a long standing Imperial history. It was formerly in the possession of the Horica Sovereign Empire and the later Galactic Empire, under Lord Sinistra.
- During the Core campaigns, Imperial forces targeted the planet due to its military industry which would serve well for the First Order's war machine
- Under the First Order, Balmorran Arms has produced whole divisions worth of AT-STs, AT-ST/as, X-1 Vipers, and SD-series battle droids for the Imperial Army.
First Order Orbital Defenses:
2x
Golan IIIs
(used for heavy defensive firepower)
First Order Ground Defenses:
2x
V-200 Ion Cannons
(planet-to-orbit planetary defenses)
-- 2x Located in Bin Prime
First Order Garrison Forces:Heavy:
- 100 AT-M6
- 100 AT-ATs
- 50 AT-AHTs
- 250 Imperial Repulsortank 1-H
Medium:
- 100 2-M Saber-class Repulsor tanks
- 150 AT-TEs
- 100 S-1 FireHawke Heavy Repulsortank
Light:
- 400 AT-STs (First Order models)
- 200 AT-ST/As
- 200 TX-130T fighter tanks
- 200 XR-85 tank droids
Commando:
- 500 Storm Commandos
Elite:
- 100 Phase III Dark Troopers
- 900 Dark Novatroopers
- 1,000 Deathtroopers
- 1,000 Elite Dark Troopers
- 3,000 Shadowtroopers
Standard:
-40,000 Standard Stormtroopers (First Order)
-10,000 Riot Control Stormtroopers
-10,000 Flametroopers (First Order)
-10,000 Megablaster heavy assault trooper
-10,000 First Order Rocket Troopers